Custom Butchering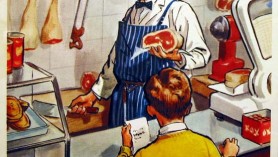 The reason we call it "custom" butchering is because you get to talk with our butcher shop to inform them on how you want your beef cut up. They will work with you on this process. They will want to know things like how thick to make your steaks, how many pounds of beef in the hamburger packs, large or small roasts etc. You also want to make a decision on the heart, tongue, and liver. Some people do not like these parts and others can not wait to try them. This step of calling the butcher shop with your cutting instructions happens while the beef is in the cooler being "dry aged". Our butcher shops understand that many folks are unfamiliar with this step. Feel free to ask questions.
For a sample of cutting instructions, take a look at this form found here. To learn more about black Angus beef, please go here.
Ready to order? Order today with our quick order form here. We'll call you and work you through the entire process.
List of Butchers:
Groff's
Smucker's
Martin's